Casambi is an innovative wireless lighting management system. Unlike many network systems, Casambi works without a central gateway or bridge. It uses the Casambi app and Bluetooth 4.0 (or BLE) as the transmission technology, which is available on most mobile devices. With Bluetooth, the app recognises devices in an environment of about 10 m and can connect them with each other.
With Casambi, up to 512 luminaires can thus be connected, configured and controlled in a network. The system offers ease of use and high scalability: from individual smart home solutions to commercial applications.
How to configure the switch
Configuration with Casambi App
To configure it, open the Casambi App on your smartphone. Then open the More section in the app and select the item "Switch" and "Add EnOcean switch". After scanning via NFC, the switch is recognised and displayed by the app with the technical designation PTM215B. Now you can name the switch individually, assign it to rooms or groups and configure the four switching points with functions.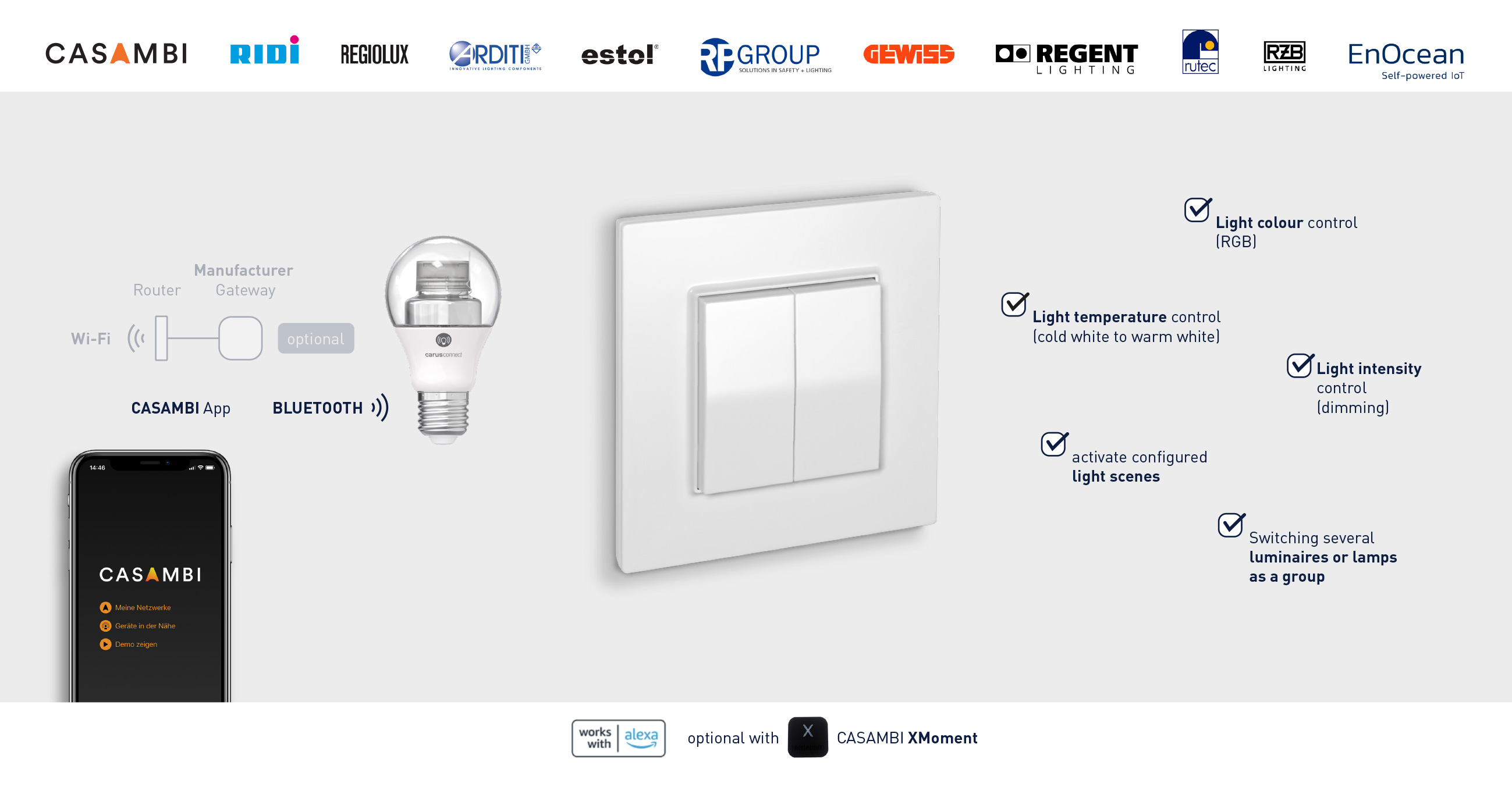 Functions
Depending on the type of luminaire or lamp, you can not only switch the light on/off, but also change the light intensity (dimming), the light colour (RGB) or the light temperature (cool to warm white). Furthermore, groups can be formed from several luminaires or lamps, light scenes can be configured and called up - also depending on time or sunrise and sunset. Sensors such as motion detectors can also be used for light control.


Retrofitting
Luminaires with permanently integrated conventional lamps can be integrated into the lighting system via small Casambi modules. In addition, LED light sources with the classic E27 and E14 sockets are also available.

Mesh network
All Casambi products automatically form a wireless network. This is a so-called mesh network. This means that each network component is not only a transmitter and receiver, but also a repeater and forwards switching and control commands. This makes the network more powerful and more fail-safe.

The Casambi app
The light can be configured with the Casambi app for iOS and Android on mobile devices such as smartphones, tablets, smart watches and - as with the Casambi switch - operated and controlled.
The range
Products for the Casambi standard are offered by a large number of manufacturers. In addition to Casambi modules, there are also LED lamps with sockets or as strips, intermediate sockets, LED drivers and much more.

Remote access
via gateway In order to be able to access the home Casambi network while on the move, a mobile end device that is used at a fixed location and configured as a gateway in the Casambi app is required.

Compatibility
Unlike other lighting systems, Casambi is compatible with other lighting systems and can also control their components. For example, all Philips Hue devices can be integrated into the Casambi network so that they can be switched and dimmed together with the Casambi components. Casambi is also compatible with the RIDI Smart Control, Nimbus Light Control and Opus (Jäger direkt) systems.

The Casambi switch
The new Casambi radio switch with the PTM switching unit from EnOcean works by energy harvesting and thus without cables and without batteries, which is easy to install and requires no maintenance in the long term. The switch can be integrated into any Casambi network and used for individual lighting control. In this way, individual lamps, luminaires or entire lamp groups can be controlled.